Najizkušenejši nogometaš v Ligi NFL je v peti minuti podaljška podal Breshadu Perrimanu, ki je ušel gostujoči obrambi, pretekel 58 jardov in postavil izid tekme. To je bil za Toma Bradyja že rekordna 700. podaja za zadetek v karieri (vključno s končnico). Na tekmi je postal tudi igralec z največ zaključenimi podajami v tem tekmovanju (rekord je odvzel Drewu Breesu).
Tampa Bay je sicer že v zadnji četrtini že vodila s 27:10, Billsem pa je v treh napadih uspelo izenačiti. Josh Allen je podal za dva zadetka, Tyler Bass pa je 22 sekund pred koncem zadel prosti strel, ki je tekmo odpeljal v podaljšek.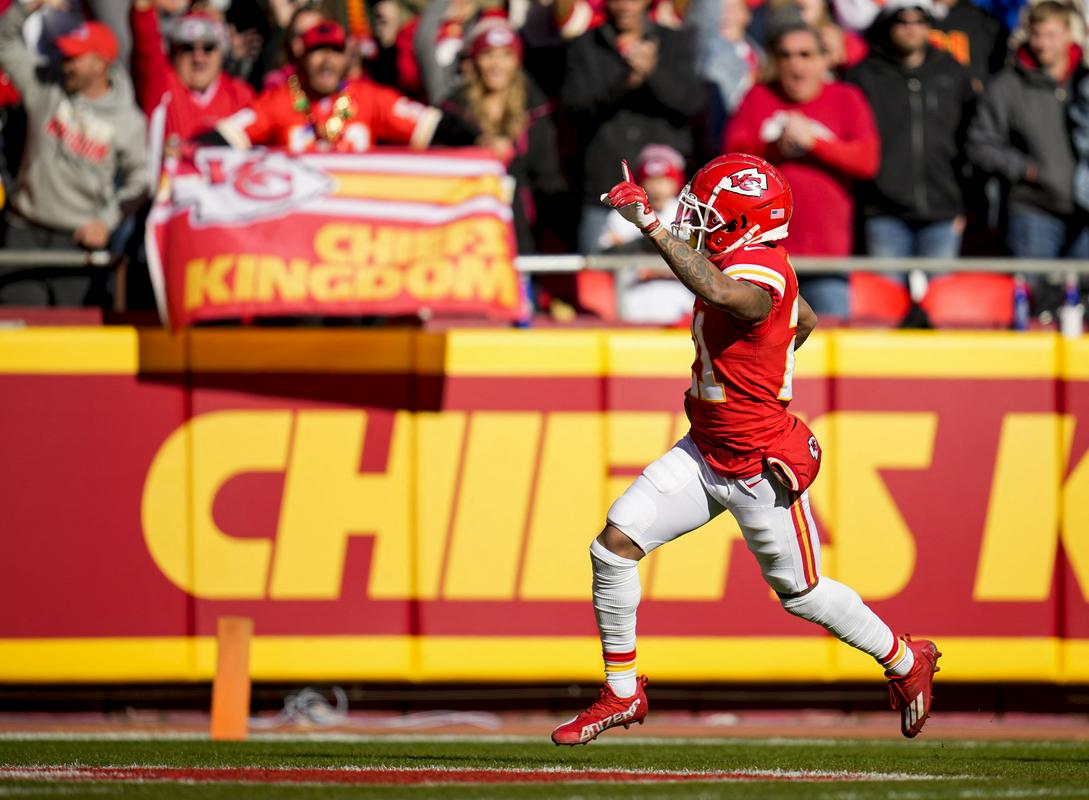 Jezni Chiefsi do polčasa nasuli 35 točk
Kansas City se je znesel nad Las Vegasom z 48:9. Po koncu ogrevanja so se gostje zbrali na sredini igrišča in imeli motivacijski govor na sredini na igrišča, kjer je logo Chiefsov. To je gostitelje izrazito razkačilo, tako so še pred koncem prvega polčasa vodili s 35:0. Patrick Mahomes ni metal veliko, a je bil uspešen (20/24, 258 jardov), zelo uspešni pa so bili po tleh (132 jardov, trije zadetki).
Poškodba Lamarja Jacksona
V derbiju divizije AFC sever je Cleveland presenetil Baltimore in zmagal s 24:22. Gostitelji so v prvem polčasu dosegli tri zadetke in povedli s 24:3. Gostujoči podajalec Lamar Jackson si je poškodoval gleženj, njegova menjava Tyler Huntley je Ravense vrnil na rob preobrata, a za zmago je bilo premalo. Gneča je zdaj v diviziji res velika (Baltimore 8-5), Cleveland, Cincinnati (7-6), Pittsburgh (6-6-1).
Liga
NFL

, 14. teden

MINNESOTA − PITTSBURGH 36:28
CLEVELAND − BALTIMORE 24:22
TENNESSEE − JACKSONVILLE 20:0
KANSAS CITY − LAS VEGAS 48:9
NY JETS − NEW ORLEANS 9:30
WASHINGTON − DALLAS 20:27
CAROLINA − ATLANTA 21:29
HOUSTON − SEATTLE 13:33
DENVER − DETROIT 38:10
LA CHARGERS − NY GIANTS 37:21
CINCINNATI − SAN FRANCISCO 23:26 (podaljšek)
TAMPA BAY − BUFFALO 33:27 (podaljšek)
GREEN BAY − CHICAGO 45:30

Ponedeljek:
ARIZONA − LA RAMS

Prosti: INDIANAPOLIS, MIAMI, NEW ENGLAND, PHILADELPHIA
Lestvice, Konferenca
AFC
Vzhod
| | | | | | |
| --- | --- | --- | --- | --- | --- |
| Ekipa | Zmage | Porazi | Remiji | Divizija | Konferenca |
| New England Patriots | 9 | 4 | 0 | 3-1 | 7-1 |
| Buffalo Bills | 7 | 6 | 0 | 3-1 | 5-5 |
| Miami Dolphins | 6 | 7 | 0 | 2-2 | 4-5 |
| New York Jets | 3 | 10 | 0 | 0-4 | 3-6 |
Sever
| | | | | | |
| --- | --- | --- | --- | --- | --- |
| Ekipa | Zmage | Porazi | Remiji | Divizija | Konferenca |
| Baltimore Ravens | 8 | 5 | 0 | 1-3 | 5-5 |
| Cleveland Browns | 7 | 6 | 0 | 2-2 | 4-5 |
| Cincinnati Bengals | 7 | 6 | 0 | 3-1 | 5-3 |
| Pittsburgh Steelers | 6 | 6 | 1 | 2-2 | 4-4 |
Jug
| | | | | | |
| --- | --- | --- | --- | --- | --- |
| Ekipa | Zmage | Porazi | Remiji | Divizija | Konferenca |
| Tennessee Titans | 9 | 4 | 0 | 4-1 | 6-3 |
| Indianapolis Colts | 7 | 6 | 0 | 3-2 | 6-3 |
| Houston Texans | 2 | 11 | 0 | 2-2 | 2-7 |
| Jacksonville Jaguars | 2 | 11 | 0 | 0-4 | 2-6 |
Zahod
| | | | | | |
| --- | --- | --- | --- | --- | --- |
| Ekipa | Zmage | Porazi | Remiji | Divizija | Konferenca |
| Kansas City Chiefs | 9 | 4 | 0 | 3-1 | 4-4 |
| Los Angeles Chargers | 8 | 5 | 0 | 2-1 | 5-3 |
| Denver Broncos | 7 | 6 | 0 | 1-2 | 3-5 |
| Las Vegas Raiders | 6 | 7 | 0 | 1-3 | 4-4 |
Konferenca
NFC
Vzhod
| | | | | | |
| --- | --- | --- | --- | --- | --- |
| Ekipa | Zmage | Porazi | Remiji | Divizija | Konferenca |
| Dallas Cowboys | 9 | 4 | 0 | 3-0 | 7-1 |
| Washington | 6 | 7 | 0 | 1-1 | 5-3 |
| Philadelphia Eagles | 6 | 7 | 0 | 0-2 | 4-4 |
| New York Giants | 4 | 9 | 0 | 1-2 | 3-5 |
Sever
| | | | | | |
| --- | --- | --- | --- | --- | --- |
| Ekipa | Zmage | Porazi | Remiji | Divizija | Konferenca |
| Green Bay Packers | 10 | 3 | 0 | 3-1 | 8-2 |
| Minnesota Vikings | 6 | 7 | 0 | 2-1 | 4-4 |
| Chicago Bears | 4 | 9 | 0 | 2-2 | 2-6 |
| Detroit Lions | 1 | 11 | 1 | 1-4 | 1-7 |
Jug
| | | | | | |
| --- | --- | --- | --- | --- | --- |
| Ekipa | Zmage | Porazi | Remiji | Divizija | Konferenca |
| Tampa Bay Buccaners | 10 | 3 | 0 | 2-1 | 6-3 |
| Atlanta Falcons | 6 | 7 | 0 | 2-3 | 3-6 |
| New Orleans Saints | 6 | 7 | 0 | 1-2 | 4-5 |
| Carolina Panthers | 5 | 8 | 0 | 2-1 | 3-6 |
Zahod
| | | | | | |
| --- | --- | --- | --- | --- | --- |
| Ekipa | Zmage | Porazi | Remiji | Divizija | Konferenca |
| Arizona Cardinals | 10 | 2 | 0 | 4-0 | 6-2 |
| Los Angeles Rams | 8 | 4 | 0 | 1-2 | 5-3 |
| San Francisco 49ers | 7 | 6 | 0 | 1-4 | 5-5 |
| Seattle Seahawks | 5 | 8 | 0 | 2-2 | 2-6 |
// Production steps of ECMA-262, Edition 6, 22.1.2.1 Array.from||(Array.from=function(){var r;try{r=Symbol.iterator?Symbol.iterator:"Symbol(Symbol.iterator)"}catch(t){r="Symbol(Symbol.iterator)"}var t=Object.prototype.toString,n=function(r){return"function"==typeof r||"[object Function]"===t.call(r)},o=Math.pow(2,53)-1,e=function(r){var t=function(r){var t=Number(r);return isNaN(t)?0:0!==t&&isFinite(t)?(t>0?1:-1)*Math.floor(Math.abs(t)):t}(r);return Math.min(Math.max(t,0),o)};return function(t){var o=Object(t),a=n(o[r]);if(null==t&&!a)throw new TypeError("Array.from requires an array-like object or iterator - not null or undefined");var i,u=arguments.length>1?arguments[1]:void 0;if(void 0!==u){if(!n(u))throw new TypeError("Array.from: when provided, the second argument must be a function");arguments.length>2&&(i=arguments[2])}var f=e(o.length);return function(r,t,n,o,e,a){for(var i=0;i-1){ cookieConsent = true; } var $sid = 'sport'; var $ssid = ''; if($sid == ''){ $sid = 'default'; } if(cookieConsent == false){ $sid = 'safe'; $ssid = ''; } //console.log('rtvslo',$sid,$ssid); _ipromNS('init', { sitePath: ['rtvslo',$sid,$ssid], cookieConsent: cookieConsent }); // END: iProm
// Dark mode, Comments & Login if (document.cookie.indexOf('darkModeEnabled=true') != -1) document.body.classList.add('dark-mode'); if (document.cookie.indexOf('showComments=true') != -1) document.body.classList.add('show-comments-enabled'); if (document.cookie.indexOf('APISESSION_USER_ID') != -1) { document.body.classList.add('user-logged-in'); } else { document.body.classList.add('user-logged-out'); }
// Mobile check var mobile = false; var mobile_xs = false;
var checkIfMobile = function checkIfMobile() { var w = window.innerWidth || document.documentElement.clientWidth || document.body.clientWidth;
w < 992 ? (mobile = true) : (mobile = false); // 992px = lg breakpoint w < 576 ? (mobile_xs = true) : (mobile_xs = false); // 576px = sm breakpoint }; checkIfMobile(); window.addEventListener("resize", checkIfMobile); // iOS standalone var isIos = function isIos() { var userAgent = window.navigator.userAgent.toLowerCase(); return /iphone|ipad|ipod/.test(userAgent); }; // Detects if device is on iOS var isInStandaloneMode = function isInStandaloneMode() { return "standalone" in window.navigator && window.navigator.standalone; }; // Detects if device is in iOS standalone mode var showIosNative = false; if (window.location.href.indexOf("show-ios-native") !== -1) document.cookie = "showIosNative=true"; if (document.cookie && document.cookie.indexOf("showIosNative=true") != -1) showIosNative = true; if ((isIos() && isInStandaloneMode() && mobile) || showIosNative) document.body.classList.add("ios-standalone"); // Facebook if(document.cookie && document.cookie.indexOf("cc_social=yes") > -1){ (function(d, s, id) { var js, fjs = d.getElementsByTagName(s)[0]; if (d.getElementById(id)) return; js = d.createElement(s); js.id = id; js.src="https://connect.facebook.net/sl_SI/sdk.js#xfbml=1&autoLogAppEvents=1&version=v3.1&appId=142347525793254"; fjs.parentNode.insertBefore(js, fjs); }(document, 'script', 'facebook-jssdk')); }